A Short History of Wreaths of Maine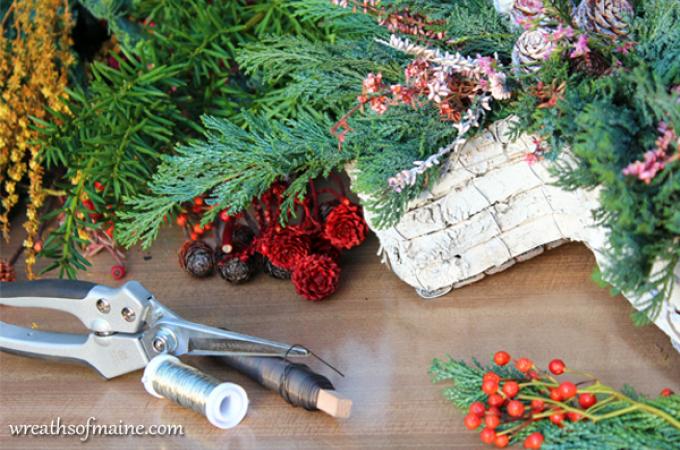 Wreaths are one of the most popular decorations during the Christmas season. They are affordable and beautiful holiday traditions that are hung as a sign of welcoming, generosity, giving, and the gathering of family and friends.
Wreaths of Maine knows how symbolic wreaths are for families who believe in the spirit of Christmas. For more than 30 years, Wreaths of Maine has been lovingly making hand-crafted wreaths that are beautiful, high quality and guaranteed to last longer than most store-sold wreaths.
To create these beautiful decorations, owner Dave Karas' skilled wreath-makers use Balsam firs to make double-sided wreaths. Balsam is not only plentiful and stays fresh longer, it's also very fragrant and an instant reminder of the smell of Christmas.
Dave grew up in a town where wreath making is one of the longest-surviving community traditions. Wreaths of Maine is located in Waldoboro on the edge of Down East Maine, where residents have been making wreaths since the first German settlers arrived in the area in the 1700s. Wreath making is a skill that has been passed down from generation to generation, so customers can be assured Wreaths of Maine's products are authentic and expertly crafted.
Dave purchased Wreaths of Maine with his wife after he graduated from college and moved back to Maine. The company grew exponentially over the years. It has created and shipped to all 50 states in the U.S., and to many places beyond. Loyal customers from Florida to Alaska and all points in between tell Dave his family-run business makes the best wreaths they've ever seen.
Wreaths of Maine supports home-schooled children by giving them the opportunity to earn money by selling wreaths. Dave thought it would be a great idea to help people in his community take interest in entrepreneurship at a young age. That idea has spread around Maine as more children become Wreaths of Maine sellers.
Today, most of the company's products are sold by home-schooled children.
To date, Wreaths of Maine has paid more than $250,000 in commission checks to sellers. The company also partners every fall with church groups, athletic clubs and schools to resell wreaths and earn a commission for each wreath sold.
Wreaths of Maine works on a daily basis to make a difference in Maine communities by helping kids earn money while growing the business. To make it easier for children who don't have the capital to purchase initial stocks of wreaths, the company offers a zero capital program in exchange for a simple essay telling why the writer wants to become part of the reseller's group and how would he or she spend the money earned.
Would you like to know how to sell wreaths with zero capital? Call Wreaths of Maine at (800) 676-1132 or email: information [at] wreathsofmaine [dot] com.