Using Social Media to Increase Wreath Sales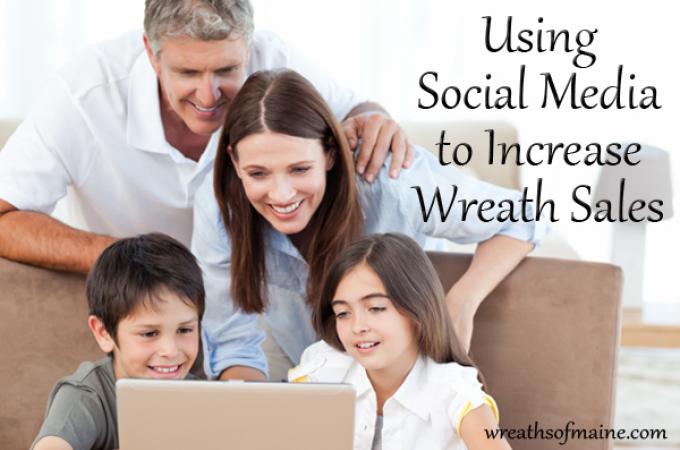 American adults spend an average of 42.1 minutes per day on Facebook, 21.2 minutes on Instagram and 20.8 minutes on Pinterest. Given those numbers, it's no surprise that small businesses are using these social networking sites to advertise their products and services.
If you are selling wreaths, social media is a great platform for promotion. And it's easier to do than you might think.
The best thing about social media is that it's free! So create your accounts today and follow these tips to market your products and start selling wreaths.
STEP 1: Set up shop
With the help of a parent or guardian, you can create a Facebook business page, Pinterest business page or Instagram account in a matter of minutes.
It's important to involve your parents or other supervising adult when creating these accounts, both for safety reasons and to have someone explain things that you may not understand. But don't worry: Signing up is a breeze when using step-by-step instructions for new users.
Click on the links below for easy-to-follow tutorials:
Video tutorial: How to set up a Facebook business page
Pinterest guide: Set up your business account
STEP 2: Choose a business name
Choosing a good business name is one of the most important aspects of marketing. To make it easier and faster for people to find you on social media, pick a name that easily identifies the products you sell.
For example, if you live in Maine, your name is Anna and you sell wreaths for the holidays, your business name could be something like Anna's Affordable Christmas Wreaths, Maine's Christmas Wreaths by Anna or Special Christmas Wreaths in Maine by Anna.
Make sure the business name you choose isn't already taken to avoid conflicts with existing businesses. A quick Internet search of your business name in quotes (for example, typing "Anna's Affordable Christmas Wreaths" in the search bar of Google and the social media sites you plan to use) should let you know if someone else is already using it.
STEP 3: Promote your business on social media
Once you have your Facebook, Pinterest and/or Instagram accounts set up and your business name chosen, it's time to start selling! Here are a few social media marketing tips to promote and increase your wreath sales:
Social media marketing tip #1: Make it easier for customers to contact you
It's crucial to let people know the best way to reach you, whether by email, phone or postal address. Some people are not comfortable displaying this information due to safety concerns, and that's OK. What you can do instead is give your contact information once an inquiry has been made.
Social media marketing tip #2: Keep a regular posting schedule
It pays to post regularly. It keeps everyone informed about your offerings, and it tells people that you are actively selling. Dedicate an hour per day of your time to manage your accounts. Post your products with complete descriptions, participate in Facebook groups, and comment on other relevant pages as well.
A quick tip to keep people's interest high on your page: Share a variety of content. Post quotes, your favorite picks, fun facts about wreaths or other content related to wreaths. The key is to keep people coming back to your social media site.
Social media marketing tip #3: Use high-quality images whenever possible
One of the key factors in increasing your wreath sales through social media is by using high-quality photos. You don't need a fancy camera; if you own a smartphone with an 8-megapixel camera, you're good to go. If you don't have sample wreaths on hand to shoot, you may copy images from the Wreath of Maine website. Making use of beautiful product photos is one sure way to capture your customers' interest.
Social media marketing tip #4: Sell in a non-aggressive manner
Keep in mind that people nowadays are constantly inundated with advertisements on social media. Sending spammy messages or flooding people's newsfeeds may cause you more harm than good. Be courteous and respectful when using social networks to create a positive business image.
Looking for extra income? Sell wreaths with very low to zero capital. Contact us if you want to know how to be a seller.