Selling Wreaths
What is a Fundraiser
Fundraisers are for groups, families, and individuals that need to raise funds. That is where Wreaths of Maine helps. Thousands of homeschooling families have been earning money selling Christmas wreaths and those funds have gone to pay for music camps, science fair traveling expenses, trips to museums and one student saved up to buy a horse. Many other groups have been successful with Wreaths of Maine by selling wreaths to support youth church groups, private schools and groups in public schools such as bands and football teams.
Wreaths of Maine is dedicated to successful fundraisers since that is how 95% are our wreaths are sold. All the information needed to be successful in selling wreaths is provided. Since we are a mail order company all the wreaths are shipped directly to the consumer. This makes it an easy fundraiser because all that is needed is selling- no processing the payments, decorating the wreaths, or even sorting them from a large shipment, and best of all no delivery. That's simple and that's why it works
How Does a Fundraiser Work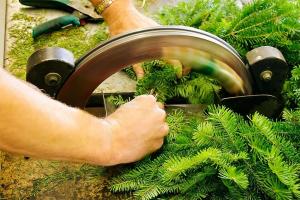 First, you need a sales packet containing useful information, as well as tools to help sell Wreaths of Maine. Using the color brochures to show the wreaths; you will earn $6.00 for each wreath sold (except the $35.00 Homestead wreath: you will earn $4.00). October is a great time to sell to businesses. Some students have had great success selling to stock-brokers, insurance agencies and real estate firms. All of November, and especially Thanksgiving weekend, is an excellent time to sell wreaths in your neighborhood or to visiting relatives. A demonstration wreath is available for $32.00. Because of the Balsam fir and weather conditions, demo wreaths are shipped the 1st week in November. Once you show a sample of the fresh Maine balsam wreath with it's aromatic scent, people are anxious to order one for themselves.
Customers fill out the invoice, one for each address. They can also add a message to be placed on a gift card when sending wreaths as gifts. Checks are made out to Wreaths of Maine, or customers may pay by credit card. Wreaths of Maine processes all the payments for you. The invoices and payments are mailed to us each week in dated envelopes provided in the sales packet. The last day to send us orders is the Monday, after Thanksgiving; at which time, you also send the sales record summary. The commission check arrives the third week of December; in which, you will be reimbursed your sales packet cost if you sold more than 10 wreaths. You will also get a free gift if you sold over 15, plus you earn $6.00 per wreath!
If you need more materials, we will send them to you FREE by calling us at (207) 832-5385, emailing your request to [email protected], Wreaths are sent directly to the customer's door the week they have chosen. Each wreath comes in a decorative gift box with directions on care, and a personalized card for wreaths that are sent as gifts. Selling is all you have to do and you earn $6.00 per wreath. That's why Wreaths of Maine has been a great fundraiser for homeschooled students for years and will work great for you too.
Sign Up to Sell
Visit our Wreaths of Maine collection to give you an idea of the quality in each wreath, and why they have been sold by thousands of homeschooled students since 1990. If you would like to be a part of Wreaths of Maine all you need is a sales packet.
Once you have ordered the sales packet, you will receive all the current material, along with the opportunity to get additional material at no cost during the 2015 wreath season. The cost of a sales packet is $10; which is refunded in your commission check once you sell 10 wreaths.
If you are interested in selling wreaths you will need to contact us.
Please order your packet today!